Sneezing Monster
Character Information
Gender

Male

Residence
Species
"Aw, nuts."
—Sneezing Monster, Monsters, Inc.
The Sneezing Monster[1] is a citizen of Monstropolis. He is a red monster, with a grey "scale" pattern on his chest and stomach. He has red spikes on his head, as well as a horn in the area where most monsters' noses would be. He has long red arms.
Biography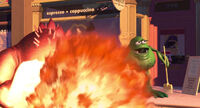 One morning, the Sneezing Monster was reading his newspaper as he walked down the street. However, he suddenly sneezed, causing flames to emit from his mouth, burning the newspaper, much to his disdain.
Appearances
References
Ad blocker interference detected!
Wikia is a free-to-use site that makes money from advertising. We have a modified experience for viewers using ad blockers

Wikia is not accessible if you've made further modifications. Remove the custom ad blocker rule(s) and the page will load as expected.