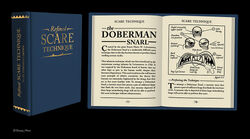 Refined Scare Technique is a fictional book wrote by Dr. Fungolius Brown. It was first seen in Monsters University film.
This book is a study guide to become a scary. The book is part of Monsters University of stuff to the School of Scaring, as Mike Wazowski studied that book all the time to provide your scare test. The book consists of a series of lessons for the scare, the study of mathematics and geometric shapes seems to be with the frightening expressions of the faces of monsters, or as shown in the film that the Professor Knight does equations and accounts about roars, thorns and more.
Appearances
Edit
Ad blocker interference detected!
Wikia is a free-to-use site that makes money from advertising. We have a modified experience for viewers using ad blockers

Wikia is not accessible if you've made further modifications. Remove the custom ad blocker rule(s) and the page will load as expected.