Welcome to the Monsters, Inc. Wiki!
Welcome to the ultimate source for one of Pixar's beloved 2001 classic, Monsters, Inc., as well as its new 2013 prequel, Monsters University!
Our wiki is still being built, so we would appreciate help with creating and editing articles.
Please only post things relevant to the Monsters, Inc. franchise, including your blogs.
If there is any issue that should come on this wiki, don't hesitate to contact one of our administrators.
Feel free to visit the Sandbox if you need to do any test edits.
Have fun reading through our wikia's articles on the movies, video games, characters, books and more!
Thank you — The Monsters, Inc. Wiki Staff
Article of the Month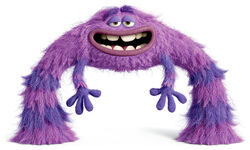 Art is a student at Monsters University and a member of the Oozma Kappa fraternity.
The ultimate free spirit, Art is a mysterious monster with a questionable background. By far the strangest member of the Oozma Kappas, Art bowls over the competition - sometimes literally - with his unique dexterity and wild-card ways. Nothing is scarier than the unpredictable, especially when it comes to this furry ball of bad. Read more...

Latest News
10/30 - Monsters University is now available on DVD and Blu-ray! Now all fans can add this instant classic to their Pixar/Monsters, Inc. collection!
11/7 - Meet the newest addition to our admin team, Darzlat!
Polls
Which fraternity/sorority best suits you?
Who's your favorite member of Oozma Kappa?
Should the Monsters franchise continue?
About the Monsters, Inc. franchise
Monsters, Inc. is a Pixar series. The first movie, titled Monsters, Inc., was released in 2001. And since then, there have been an uncountable amount of short films, books, video games and other media. In 2013, the second feature film, Monsters University, premiered. The franchise focuses around two best friends named Mike and Sulley, who work at a company called Monsters, Incorporated in their town of Monstropolis. The two are enemies with Randall Boggs, a lizard-like monster who is always up to no good. Their job at Monsters, Incorporated is to collect laughs from children so they can power Monstropolis' electricity.