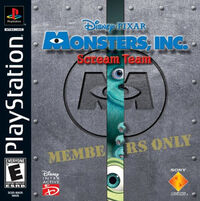 Monsters, Inc. Scream Team is a video game.
Plot
Before Mike and Sulley were hired at Monsters, Inc., upon arriving they had to complete several trials to qualify as a scare team. To do that, they scare all the robot children known as Nerves. The bronze medal can be obtained by scaring five Nerves on a level; the silver medal can be obtained by finding and collecting 10 "Monsters, Inc." Tokens scattered on a level; and the gold medal can be obtained by scaring all the 8 Nerves of a level.
Characters
Levels
Urban Training Grounds
Trivia
Many clips from the movie are shown.
Gallery
Ad blocker interference detected!
Wikia is a free-to-use site that makes money from advertising. We have a modified experience for viewers using ad blockers

Wikia is not accessible if you've made further modifications. Remove the custom ad blocker rule(s) and the page will load as expected.