It's the apartment where Mike and Sulley live. It is composed of the living room and the bedrooms. Mike and Sulley hide from the CDA to protect Boo from being captured. It is only seen in Monsters Inc.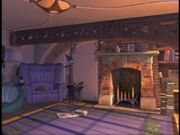 This laugh canister is not full yet.
If you would like to help collect laughs to fill this canister, simply click the "Edit" button at the top of this page and expand this article.
Ad blocker interference detected!
Wikia is a free-to-use site that makes money from advertising. We have a modified experience for viewers using ad blockers

Wikia is not accessible if you've made further modifications. Remove the custom ad blocker rule(s) and the page will load as expected.