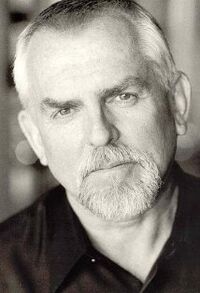 John Ratzenberger
 (born April 6, 1947, 66 years old) is an American actor who provided voices in
Monsters, Inc.
He has had a role in every 
Pixar
 film to date, such as Hamm in the "Toy Story" trilogy, P.T. Flea and the Guy in the Bug Bar in "A Bug's Life", a moonfish in
Finding Nemo
, The Underminer in "The Incredibles", Mustafa in "Ratatouille", John in "WALL-E", Mack in the "Cars" series, and Gordon in "Brave". He has had live-action roles in "Determination of Death", "All In", and "What If..."
Voices
Trivia
His full name is John Deszo Ratzenberger.
Ad blocker interference detected!
Wikia is a free-to-use site that makes money from advertising. We have a modified experience for viewers using ad blockers

Wikia is not accessible if you've made further modifications. Remove the custom ad blocker rule(s) and the page will load as expected.