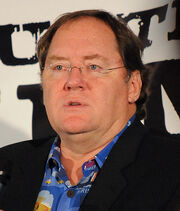 John Lasseter (born January 12, 1957) is an American animator, film director, screenwriter, producer and the chief creative officer of Pixar and Walt Disney Animation Studios.
He was the Executive producer for both Monsters, Inc. (2001) and Monsters University (2013). In the Academy Awards he was nominated for the best "Animated Feature" for Monsters, Inc.
This laugh canister is not full yet.
If you would like to help collect laughs to fill this canister, simply click the "Edit" button at the top of this page and expand this article.
Ad blocker interference detected!
Wikia is a free-to-use site that makes money from advertising. We have a modified experience for viewers using ad blockers

Wikia is not accessible if you've made further modifications. Remove the custom ad blocker rule(s) and the page will load as expected.