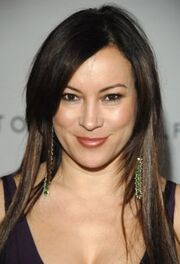 Jennifer Tilly (born Jennifer Elizabeth Chan; September 16, 1958) is an American actress, poker player, voice artist, and comedienne who voiced Celia Mae in Monsters, Inc. She has also had various roles in films and television series, including Bird of Prey, The Haunted Mansion, Bart Got a Room, and The Kid. Tilly has also provided voices in The Cleveland Show and the Family Guy video game.
Voices
This laugh canister is not full yet.
If you would like to help collect laughs to fill this canister, simply click the "Edit" button at the top of this page and expand this article.
Ad blocker interference detected!
Wikia is a free-to-use site that makes money from advertising. We have a modified experience for viewers using ad blockers

Wikia is not accessible if you've made further modifications. Remove the custom ad blocker rule(s) and the page will load as expected.