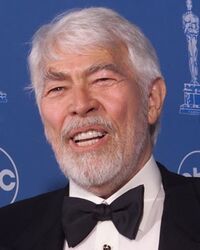 James Coburn (born August 31, 1928 and died november 18, 2002, aged 74) is an American actor who provided voices in Monsters, Inc. Coburn studied acting UCLA, and later with Stella Adler. He has had roles in various films and television series, such as "Young Guns 2", "Mastergate", "The Fifth Corner", "The Hit List", "The Set Up", and "Snow Dogs". Coburn died of a heart attack November 18, 2002.
Voices
This laugh canister is not full yet.
If you would like to help collect laughs to fill this canister, simply click the "Edit" button at the top of this page and expand this article.