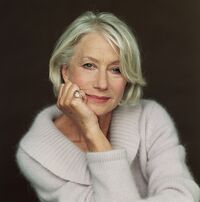 Helen Mirren, born July 26, 1945, is a British actress who provided voices in Monsters University. She is also known for roles in "The Queen", "The Debt", "Hitchcock", and 'Excalibur".
Voices
Trivia
Helen Mirren's inspiration for playing Dean Hardscrabble:

"I was thinking of my headmistress and my first interview with my headmistress when I was ten and I remember the sheer terror of the whole thing going from primary to grammar school...So I'd like to think a part of her is in Dean Hardscrabble."[1]

She has previously worked with Billy Crystal in the short film "When Harry Met Sally 2 with Billy Crystal and Helen Mirrin".
References
This laugh canister is not full yet.
If you would like to help collect laughs to fill this canister, simply click the "Edit" button at the top of this page and expand this article.
Ad blocker interference detected!
Wikia is a free-to-use site that makes money from advertising. We have a modified experience for viewers using ad blockers

Wikia is not accessible if you've made further modifications. Remove the custom ad blocker rule(s) and the page will load as expected.