Garbage Monster
Character Information
Gender

Female

Residence
Species
Profession(s)

Janitor at Hidden City Café
The Garbage Monster[1] is an employee at the Hidden City Café. She is a chubby monster with dark green skin and a stomach that has multiple black spots surrounding it. She has long, green arms and legs, as well as long eyelashes.
Biography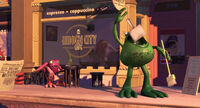 One day while
James P. Sullivan
and
Mike Wazowski
were walking to
work
, the Garbage Monster was cleaning up after the customers outside of the Hidden City Café, and after picking up their trash, she then ate the garbage.
Appearances
References
Ad blocker interference detected!
Wikia is a free-to-use site that makes money from advertising. We have a modified experience for viewers using ad blockers

Wikia is not accessible if you've made further modifications. Remove the custom ad blocker rule(s) and the page will load as expected.