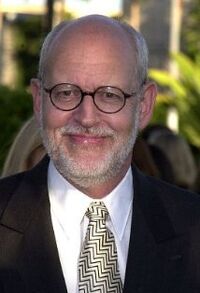 Frank Oz, born May 25, 1944 in Hereford, England, is an English actor and voice actor who provided voices in Monsters, Inc. He is probably best known for his roles as Yoda in the "Star Wars" series, and as Miss Piggy, Fozzie Bear, Animal, and Sam the Eagle in "The Muppets". Other acting roles include "Blues Brothers 2000", "Innocent Blood", "The Dark Crystal", "Labyrinth", and "Spies Like Us". He has also provided voices in the popular television series "Sesame Street" as Cookie Monster, Bert and Grover.
Voices
Trivia
The middle three letters of his car's license plate are "PYK", for Piggy, Yoda and Kermit. It is believed to be a coincidence, because it is a standard DMV-issued license plate, not a vanity plate.
Ad blocker interference detected!
Wikia is a free-to-use site that makes money from advertising. We have a modified experience for viewers using ad blockers

Wikia is not accessible if you've made further modifications. Remove the custom ad blocker rule(s) and the page will load as expected.