This laugh canister is not full yet.
If you would like to help collect laughs to fill this canister, simply click the "Edit" button at the top of this page and expand this article.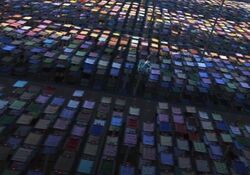 The
Door Warehouse
is home to a storage of millions of doors used by
Monsters, Inc.
in the movie
Monsters, Inc.
Mike
,
Sulley
and
Boo
are seen traveling through the warehouse to get to
Boo's door
and escape
Randall Boggs
.