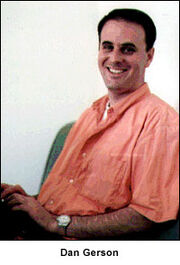 Daniel Gerson (August 1, 1966 - February 6, 2016) was an American screenwriter who wrote and provided voices for Monsters, Inc. and Monsters University. He had several roles as a writer, including Something So Right, Big Wolf on Campus, Chicken Little, Cars, and Meet the Robinsons. He died of brain cancer on February 6, 2016.
Writing Roles
Voices
Ad blocker interference detected!
Wikia is a free-to-use site that makes money from advertising. We have a modified experience for viewers using ad blockers

Wikia is not accessible if you've made further modifications. Remove the custom ad blocker rule(s) and the page will load as expected.