[[File:|300px]]

Chalooby
Character Information
Gender

Male

Residence
Species
Profession(s)

Janitor at Monsters, Inc.
"Chalooby, baby!"
Chalooby is a janitor that works at Monsters, Inc., performing tasks such as mopping the floor. However, since he oozes slime when he moves, this often makes his job difficult. He is a slug-like monster with five eyes of varying sizes.
Biography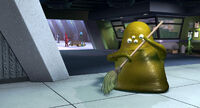 Chalooby had finished mopping the floor one day, and after giving a nod of approval to the clean floor, he began to move away, leaving slime behind him in the process. During this, he was greeted by
Mike Wazowski
, and he responded with a quiet screech.
Appearances
Ad blocker interference detected!
Wikia is a free-to-use site that makes money from advertising. We have a modified experience for viewers using ad blockers

Wikia is not accessible if you've made further modifications. Remove the custom ad blocker rule(s) and the page will load as expected.